Crowdfunding campaign
: Originally runned at Generosity platform (later acquired by GoFoundMe), from Indiegogo. Link at Generosity was deactivated in May 2018 (
this one
), but a secondary link at Indiegogo remained active, although the crowdfunding campaign was automatically closed after that mentioned acqusition (link at Indiegogo reviewed on May 2018 -
here
), only for reference:
bit.ly/igg-tt
Tochua Tota, or Bees of Lake Tota
[Written in our ancestral muisca language, it's the name of our project - see more: Tochua Tota weblink]
Worldwide, bees are becoming at risk of extinction as are wetlands and their ecosystems. We aim to do something positive against that in our region of Lake Tota (Colombia).
Tochua Tota's purpose is to farm bees with 10 beehives in Lake Tota. We aim not only to succeed in production and inspire our community to have their own bee farms, but to connect beekeeping with environmental restoration and wise use of wetlands. We will do so through education, workshops and meetings for community awareness on the importance of healthy ecosystems and good practices. Funds destiny is explained below (ending text)*, and they will support the start-up of this process and maintenance during one year (when we plan to have developed self-sustainability).
A contribution to peace with the environment:
Small steps such as cultivating our own bee farm and connecting it among our communities with environmental education and awareness on wise use of wetlands, may inspire others to act and contribute as well to sustaining bee populations.
If we can succeed on our project, and by future developments bees can actually succeed in being properly established and safely spread all over the Lake Tota watershed, then conflicts between people and this environment must decrease. It's therefore a contribution to peace with the environment.
A positive establishment of bees should lead over the years for local stakeholders and authorities to e.g. good practices in agriculture, appropiate land management and use of fertilizers, reduction of pesticides and better use of them, more and better reforestation (native plants), improvement in the water cycle, betterment in biodiversity, new and better approaches in environmental education, and/or increase in landcape beauty and green tourism. All of them (and a few more!), are topics in which Lake Tota currently faces a conflict between people and nature due to unwise use of the lake and other wetland areas.
 
"There is definitely an increased risk of extinction. If these things are already vulnerable and climate is increasingly putting pressure on them, it is going to tip them over the edge so we will get local extinctions." (The Telegraph, by Emily Gosden 2014 » see source) - quoting Scientist Simon Potts, Professor of Biodiversity and Ecosystem Services at Reading University (UK).
 
Lake Tota:
Lake Tota or The Lake in the Clouds, is the largest lake in Colombia, and a wetland of international importance without protection. It needs support to overcome unsustainable practices and environmental threats (more details: Lake Tota overview). Our NGO, Fundación Montecito, is fully committed to helping accomplish this. The foundation was created in 2010, and we have made a significant number of actions, mostly with our own family funds. We understand it's a long process, and of course having funding limitations heavily restricts the possibilities to make bigger changes.
 
"Half of the world's wetlands have disappeared since 1900. Development and conversion continue to pose major threats to wetlands, despite their value and importance." (WWF » see source).

Lake Tota overview - The largest lake in Colombia, located at 3015m high above the Andes. This watershed is our environmental aim at Fundación Montecito and with Tochua Tota. Source: Fundación Montecito. Photo sources, list below.
Time to do more:
We feel that it's time to do more, to go to the next level in improving our presence and influence in the region to help Lake Tota. We decided to undertake this strategy with the cultivation of bees associated to our Wetland Centre ABC Tota (see more: abctota.org), connecting the Tochua Tota purpose to a direct influence in raising environmental awareness in and around our communities.
"Native wetland ecosystems provide critical food resources and nesting habitats for native bees, which supply valuable pollination services." (Jennifer Bergh et al, 2010 » see source).
Lake Tota surroundings, and cultural lanscape. Source: ABC Tota Wetland Centre. Photo sources, list below.
But we cannot do this without funds. Therefore we decided to start this campaign and are looking forward to gaining generosity from others (you!) willing to help on issues of bee production, wetland conservation, and education. We are hoping that your donation will reward your spirit by knowing it provides true support to betterment of Lake Tota and its local livelihood.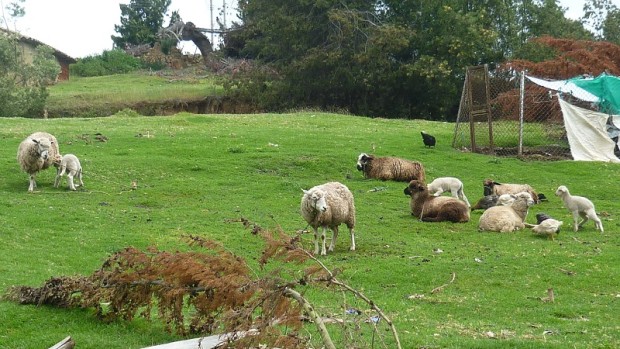 A tipical view for a tipical farmland in rural areas of Lake Tota. Source: Fundación Montecito. Photo sources, list below.
Current stage:
We already have an adequate piece of land property, administration, and availability on the Lake Tota shore to place the first 10 beehives. We've developed a base network of contacts and consultants to help with our progression, and the funds we need now aim to develop our project from this stage (a detail of needs that funds will cover is listed below)*.
"For the last several years scientists have fretted over the future of bees, and although research has shed much light on the crisis, those in the bee business—from hive keepers to commercial farmers—say the insects remain in deep trouble as their colonies continue to struggle." (Jennifer S. Holland, 2013 for National Geographic News » see source).

Tochua Tota would not only be the first beehive placement in Lake Tota, but also the first approach to environmental education through the cultivation of bees. It is an all in one project with a purpose of providing a real and positive example to local communities, children and visitors. The project exemplifies the connection of healthy bees, environments and people, the need for informed practices (e.g. agriculture, reforestation), and wise use of wetlands. Finally we want to help in sustainability of our Lake Tota watershed -- which in turn is our main objective at ABC Tota wetland centre and NGO Fundación Montecito.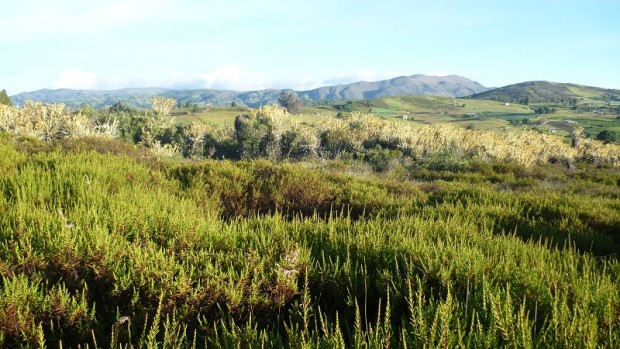 A páramo ecosystem near to Lake Tota. Tochua Tota aims to protect these areas and promote an ecological restaurationin other parts of the lake. Good for the environment and the bees! Source: Fundación Montecito. Photo sources, list below.
"Bees still are dying in larger-than-average numbers in North America, Europe, parts of Asia and elsewhere. We're still not sure why... But beekeepers and bee researchers generally agree that it's not just one thing killing the bees. In reality, some combination of the four P's is the culprit: parasites, pathogens, poor nutrition and pesticides." (Rachael Bale, 2015 in Reveal's article Everything you wanted to know about the bee die-off » see source).
Potential:
Therefore, by walking through the whole process of bee cultivation to environmental sustainability, both in our own production but also in a regional context, Tochua Tota will raise environmental awareness. By succeeding in its beehive production economy, it may inspire others to follow and eventually we will get a domino effect that will provide a certain contribution to the community's well being.
Timelapse of a Lake Tota view, right next to the place where Tochua Tota will be located. Source: ABC Tota and Fundación Montecito. Photo sources, list below.

We believe that every effort in creating a positive chain is good for the environment, and therefore good for everyone. And Tochua Tota aims to do just that, with bees.
Paramocito, a small remaining area of páramo near to Lake Tota, it's the type of ecosystems that Tochua Tota aims to create a close connection with, also to help in conserving them. Source: Fundación Montecito. Photo sources, list below.
Destiny of funds:
*Funds are meant to cover all the necessary job site work and supplies to establish 10 beehives in Lake Tota and develop the environmental education estrategy during a year, including:
Paths, and land adequation on a hillside of the property.
A basic construction cover to protect beehives from climate in this altitude.
Acquisition and placement of the 10 beehives.
Basic equipment to manage and maintain the production.
Reforestation inside the property with a minimum 500 native plant species around the beehives, choosing those especially appropriate for bees.
Professional assistance and consultancy, regarding beehive management.
Preparing a minimum 4 workshops with local communities and schools in the area.
Harvesting our initial own bee products, and marketing them.
And, development of basic communitary educational tools (flyers, and weblinks) regarding bee production and its relation in ecosystems.
To know more about our project, please visit: abctota.org/tochua.
¡Thank you so much for your support!
--
¿Who we are?
In the Tochua Tota project we are a small team inside our NGO Fundación Montecito, plus a local network of friends and contacts with experience in bee keeping. Here a short description of ourselves:
At Fundación Montecito:
NGO Fundación Montecito:
Fundación Montecito - see more at: fundacionmontecito.org.
 
ABC Tota Wetland Centre initiative:
ABC Tota - see more at: abctota.org.
 
Felipe Velasco, Colombia.
Director of Fundación Montecito and ABC Tota, coordinator at Tochua Tota.
Felipe Velasco - see more: about me.
 
Juanita Arango, Colombia.
Co-founder of Fundación Montecito, NGO general assistant.
Juanita Arango - see more at: FB profile.
 
Samuel Velasco, Colombia.
Inspirational figure for Juanita & Felipe at Fundación Montecito, partner and companion.
Samuel Velasco.
 
Matthias Schudoma, Germany.
Volunteer for one year at Fundación Montecito, Project Leader at Tochua Tota.
Matthias Schudoma.
 
Hannah Whisenant, USA.
Volunteer at Fundación Montecito, Video Producer at Tochua Tota.
Hannah Whisenant - see more at: FB profile.
 
Local network (connections and consultants, bee specialists):
Edgar F. Vargas, Bee keeper (Boyacá. Col).
Company: Apicultura Los Arrayanes.
Edgar F. Vargas.
 
Efraín Muñoz, Bee keeper (Boyacá, Col).
Company: Apimundo SAS.
Efraín Muñoz.
 
Guillermo Salamanca, PhD Professor, and Bee expert (Colombia).
Faculty of Sciences, University of Tolima.
Guillermo Salamanca.
 
Nelson Rodríguez (Santander, Col).
Environmentalist and Bee keeper.
Nelson Rodríguez.
--
Photo sources:
-Fundación Montecito
-Felipe Velasco
-Thomas Koenig
-Amélie Louys
-Hannah Whisenant
-Henrik Riedler
--
Locations shown in videos and photos:
-Lake Tota
-Paramocito (Lake Tota)
-Laguna Negra and Páramo de Ocetá (Mongua)
-Xieti farm, and Hostel Xieti
-Vereda Guáquira (Tota)
-Nobsa (bee workshop)
-Apicultura Los Arrayanes
--
Fundación Montecito's CV and experience:
See weblink (in English).